Meet the Planning Board Members
The Montgomery County Planning Board plans for livable communities by developing large and small scale plans, providing guidelines for the pattern and pace of future development and preserving historic resources throughout the 323,000-acre county. The Planning Board implements plans through its review of development applications and its subdivision decisions. The Board is also responsible for the development and management of Montgomery County's nationally recognized 32,900-acre park system. The Montgomery County Planning Board, together with the Prince George's County Planning Board, comprise The Maryland-National Capital Park and Planning Commission.
Françoise Carrier
Planning Board Chair, The Maryland-National Capital Park and Planning Commission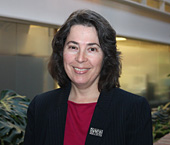 Françoise Carrier became chair of the Montgomery County Planning Board in June 2010. Ms. Carrier was a director and hearing examiner with the Montgomery County Office of Zoning and Administrative Hearings. She had worked for that office since 2001, carrying out the functions of an administrative law judge in land use and human rights cases decided in trial-type hearings. In some 20 cases each year, Ms. Carrier issued detailed recommendations for the County Council or other agencies. She also issued final opinions for a few cases each year. A graduate of Stanford Law School with a background in economics and land use law, Ms. Carrier previously worked for three Washington, D.C., law firms.
Marye Wells-Harley
Planning Board Vice Chair and Commissioner
Marye Wells-Harley was appointed to the Planning Board in July 2009. A Silver Spring resident, Wells-Harley is a retired director of the Prince George's County Department of Parks and Recreation, where she was instrumental in the agency receiving an unprecedented five top awards from the National Recreation and Parks Association. Her long tenure of public service brought her the distinction of being named one of Maryland's Top 100 Women by the Daily Record newspaper in 2004. Wells-Harley holds a bachelor's degree from Winston-Salem State University and is a graduate of the Executive Leadership Institute and Leadership Washington.
Amy Presley
Planning Board Member and Commissioner
Amy Presley has more than two decades of marketing and business development experience and is an innovative strategist who specializes in facilitating organizational transition and leading teams to solve complex business problems. Presley most recently served as the Chief Marketing Officer of The Chronicle of Higher Education and The Chronicle of Philanthropy overseeing marketing and product development for both online and print publications. For five years before joining The Chronicle, Presley headed her own consultancy, Synergies, Inc., which focused on strategic marketing planning and implementation. Ms. Presley was appointed to the Planning Board in June 2008.
Norman Dreyfuss
Planning Board Member and Commissioner
Appointed to the Planning Board in February 2010, Norman Dreyfuss, is executive vice president of IDI MD, the developer of Leisure World and many other developments throughout the Washington, D.C., region. Dreyfuss, who has worked in all aspects of community development, is a champion of affordable housing and co-chairs the County's annual Affordable Housing Conference. Mr. Dreyfuss formerly served as Commissioner on the Montgomery County Housing Opportunities Commission. A resident of Potomac, Dreyfuss holds a J.D. from American University and a B.S in Mechanical Engineering and a B.A. in Fine Arts from Rutgers University.
Casey Anderson
Planning Board Member and Commissioner
Silver Spring resident Casey Anderson, an attorney and community activist, was appointed to the Board in June 2011. Previously, Anderson served on the boards of the Washington Area Bicyclist Association, the Citizens League of Montgomery County, and the Coalition to Stop Gun Violence, and the Committee for Montgomery. He also is a former vice president of the Woodside Civic Association and executive vice chairman of the Silver Spring Citizens Advisory Board. Anderson holds undergraduate and law degrees from Georgetown University and a graduate degree in journalism from Columbia University.
Mission of the Montgomery County Planning Board
Read the board's semi-annual reports
For more information, please call the Planning Board's Commissioners' Office, 301-495-4605.